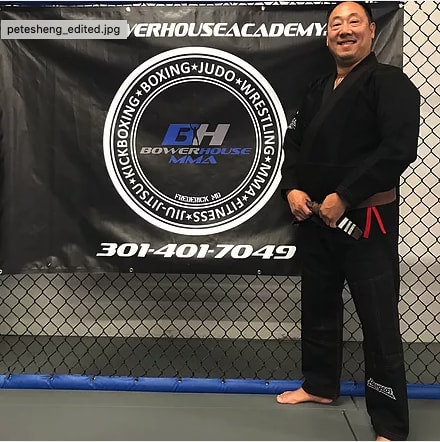 Pete Sheng
Youth BJJ Instructor, BJJ Black Belt
Coach Pete Sheng received his Black Belt from Professor Vicente Junior & Chris Bower in May 2021. A native of Taipei, Taiwan, has a diverse background in martial arts. Pete began his martial arts training way back in 1990 at the Princeton Academy of Martial Arts in Princeton, NJ under Sifu Rick Tucci with training in Jeet Kune Do, Kali Eskrima, Muay Thai, Penjat Silat, Wing Chun Kung Fu, Western Boxing, and Japanese Shoot Wrestling.

In 2011, he started training Brazilian Jiu Jitsu under Professor Vicente Junior, and as a white belt in 2012, he was invited to train in Maceio, Brazil, the hometown of Professor Vicente Junior. Pete currently holds the rank of purple belt, and he's been a Youth BJJ instructor since 2013.

In addition to his dedication to martial arts, Pete currently keeps our streets safe as a Maryland police officer with 16 years on the force, and he is a certified firearms instructor. He enjoys deer hunting and fishing which has earned him the nickname of "Asian Redneck", he does a killer Arnold Schwarzenegger impression, and it is very possible that he owns no clothing other than martial arts tee shirts, gis, and police uniforms. Coach Pete is married and his wife and two children also train and teach at Bowerhouse.

Pete teaches Youth BJJ classes and assists with the adult BJJ fundamental class.